by: Gwynn
I have Kendra Rafford, long-time Halcyon staffer here blogging for me this week. you'll be hearing more from her here in the weeks to come!
Oh how I love to pull out the Christmas box and unveil those treasured ornaments and decorations that come out just once a year. And that's just what I did this past weekend, all be it a little early. I was searching for our Christmas stockings to hang up in the shop at Halcyon Yarn as inspiration for our customers. Oh what great feelings the sight of the hand-knit stockings evoked!
From the time I was a little girl, my all time favorite things to unpack at Christmas time have been the hand-knit stockings. My nana knit my father's stocking back when he was just a boy. As my mother, my brother and I each joined the family she lovingly did the same for us. There was something magical about seeing them hanging together.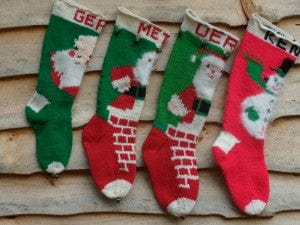 Of course I loved them all, but I must admit I was partial to my own snowman stocking. After all, the snowman was knit with angora – oh so soft! Isn't there something extra special about a stocking that has angora in it? Usually it's just Santa's beard, but imagine, I was fortunate enough to have an entire snowman.
I knew that when I had a family of my own I'd knit Christmas stockings for each of them. I had grand visions of my own children loving their stockings as much as I loved my own. So as I had one, then two, then three little boys, each got his own Christmas stocking lovingly knit by Mom. I chose a Yankee Knitters pattern for the first two. By the time the third came along, I became a bit more bold. I really liked the stocking my nana knit with Santa coming out of the chimney, but couldn't find an exact pattern. So I chose an Ann Norling pattern to knit the upper part of Santa and then I used knitter's graph paper to chart my own chimney. Certainly not the same, but still a success I think. And then there was my husband who kept asking where was his hand-knit stocking. Growing up the poor guy had one of those drug store Christmas stockings made in China. It took several years, but I finally knit him one of his own. Since he had been so patient I decided to go the extra mile on his. First I made it a little bigger, I charted my own Christmas tree design, and finally I adorned the tree with hand sewn beads and buttons. At last, my family Christmas stockings were complete.
I must admit I feel pretty good having continued a family tradition. The two collections of stockings are similar yet just a little different. I tried to personalize my boys' (that includes my husband) stockings by adding a knitted braid at the top , a bell on the toe  and I purposely chose to knit each with a Maine wool, Bartlett Yarn. I have to just say, whether it's a stocking knit 60 some odd years ago for my dad or one knit just a few years back for one of my sons, there is something special about a hand-knit stocking. A store bought Christmas stocking just can't compete.
Here's hoping your holidays are filled with handmade things that will create memories that last a lifetime. -Kendra
What's the story behind your Christmas stockings?